Mindfulness and yoga retreat
10-14 Augusti 2022, 4 nights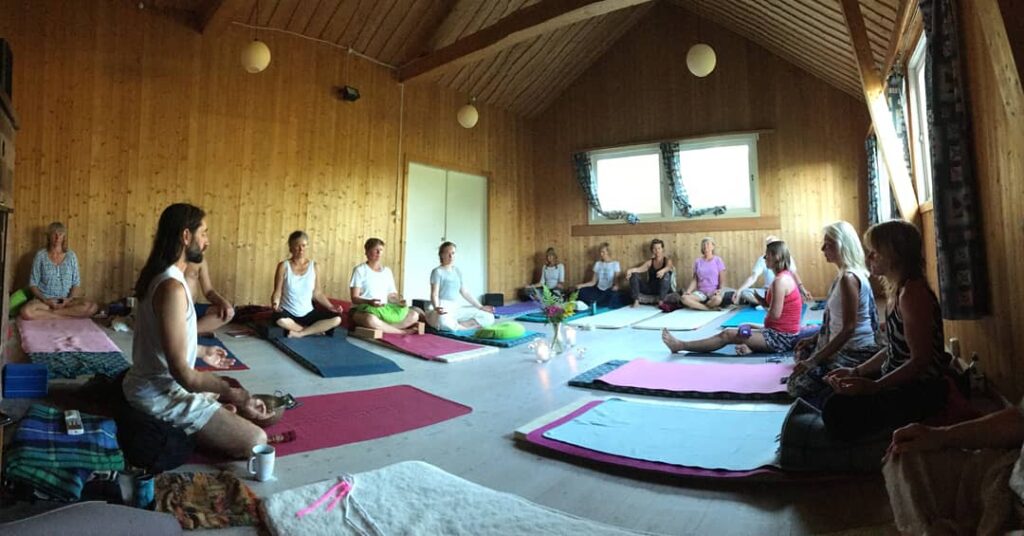 Welcome to this summer retreat for the practice of mindfulness, compassion, and gentle yoga with international teacher, Jonathan Weber. We will explore the practice of Mindful yoga, a gentle and therapeutic movement style, together with mindfulness and self-compassion meditation, to help us regain our balance and inner peace. This retreat is also an opportunity to relax in a nurturing and supportive environment, eat healthy food, have time for self-reflection, connect with like-minded community, and enjoy the beauty of the Swedish islands in the summer.
Mindfulness and Mindful yoga are an excellent way to bring the body and mind back into a natural resting state and develop greater resilience in facing the demands of everyday life. Being on retreat in this way gives us the space to both recharge our batteries and practice tools that can help us manage stress and emotional reactivity, so that we can realize greater well-being in both the body and mind. This mindfulness and yoga retreat is an invitation to quiet the mind, open the senses, renew the body, and fill the heart!
Jonathan Weber is an accomplished senior teacher of mindfulness and Mindful yoga, residing in Norway. He will be our skillful guide for this retreat as we rediscover our natural peace and enjoy the healing power of being in the present moment.
Daily program
Every day starts with silence until lunch. This gives us the environment for self-reflection, which supports mindful and intentional practice. Morning practice begins with a guided mindfulness meditation. After Breakfast there will be a gentle Mindful yoga session followed by deep relaxation and meditation. After Lunch is personal time, during which you can explore the island or the farm; kayak on the water, walk in the woods, lounge in the garden, bike around the islands, write in your journal, connect with others, or just enjoy the moment doing nothing. In the afternoon session, we will explore compassion practices, and have time to share as a group. After dinner, in the evening sessions, there will be teachings on the theme, with an evening practice for deep relaxation, including chanting or restorative yoga.
There will also be the opportunity to practice some Karma yoga while we are in retreat, doing some simple garden work or cleaning… some of the best ways to practice mindfulness in daily life! 🙂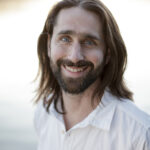 Jonathan Weber, E-RYA 500, is a certified teacher of Mindful Hatha yoga and educated in MBSR/MBCT (Mindfulness-Based Stress Reduction/Cognitive Therapy). He has been practicing yoga and meditation for over 30 years and has been a leading teacher in the integration of mindfulness with yoga. He started teaching mindfulness and compassion meditation in 2006, introduced Mindful yoga in 2015, and established the first Mindful Yoga Education at Oslo Yoga studio in 2018. He has been a co-therapist and program developer with Maja Thune in the first Therapeutic Yoga Teacher training in Norway, using mindfulness and yoga as therapeutic tools in psychiatry. With a background in traditional Buddhist yoga practice, has studied with many respected Buddhist and yoga teachers, including Chokyi Nyima Rinpoche, Lama Surya Das, Allan Wallace, Ani la Tsering Chodron, and Ram Dass. And over a decade of leading international retreats, trainings, workshops and classes, Jonathan has become known for his calm, open-hearted presence and wisdom.
Kursen hålls i en naturskön rofylld sommaridyll, i en trivsam, avspänd och familjär atmosfär med kurspass även utomhus. Du serveras 3 välsmakande måltider vegetarisk mat, mestadels ekologisk, tillagade med själ och hjärta. Boende finns i olika prisnivåer i enkelrum eller delat rum i olika trivsamma stugor inom området med gemensam toalett och dusch i separat byggnad eller i ovanvåningen i huvudbyggnaden med toalett och dusch på bottenvåningen. Det finns en nybyggd stuga Nya Kaprifolen med egen dusch och toalett som har två rum med två bäddar samt ett nybyggt hus med rum och gemensam toalett på samma våning.
Ytterligare information: Jonathans hemsida yoga.jonathanweber.org 
Allmän information om Gullnäsgården kan du läsa här.
Anmälan och priser – 2022
Includes
lodging for 4 nights
3 daily vegetarian meals
Teacher fees; all classes and course material
6,210 SEK / 5,950 NOK — private room/cottage, shared bathroom
5,760 SEK / 5,500 NOK — shared room/cottage, shared bathroom
Note: bathrooms may be a short walk outside the cabin.
Modern rooms with bathroom next to room
6,560 SEK / 6,270 NOK — single room, attached bathroom
5,960 SEK / 5,700 NOK –shared room, attached bathroom
Note: Lodging is in different cottages and houses on the land. The style is a charming old Swedish farm, and things are kept very simple in a back-to-the-land fashion. It is important to remember, as amenities here are not all modern. Please inform us if you need the bathroom close to your room.
IT IS POSSIBLE TO STAY LONGER! IF you want to have a longer retreat, you can come earlier and have food and board. Please contact Gullnäsgården directly: lisa@gullnas.se
Registration:
For inquiries or registration, email Jonathan: jonathan.rigpa@gmail.com
Subject heading for emails: Summer Retreat Sweden
It is recommended that you have some previous experience in meditation/yoga or self-exploration to join. If you have not been on any retreats with Jonathan before, please introduce yourself; say something about your experience with meditation or yoga, any retreat experience, and your intention to join.
Space is set to 12 participants maximum, and private rooms are limited, so reserve your space early!
Payment:
Deposit to reserve your space: 1.000 NOK (balance due must be paid by June 22)
Pay deposit or full amount into account #: 1720.25.41372
Or Vipps (in Norway): Jonathan Weber 94249479
Payment from Sweden or outside Norway:
IBAN-account #: NO9217202541372
BIC/SWIFT-code: BIENNOK1XXX
Bank: Bien
To: Jonathan Barr Weber
Tryggvangveien 25, 1458 Fjellstrand, Norway
Cancelation policy:
Before June 1, full refund -1000 NOK (admin. Fee)
After June 1, 50% refund – 1000 NOK (admin. Fee)
After July 10, no refund (If you cannot come due to illness, we can try to offer the space to someone else if there is a waiting list. We can offer a full refund, -1.000 admin fee, if there is a person who can take your place and you have a doctor's statement of your inability to come.)